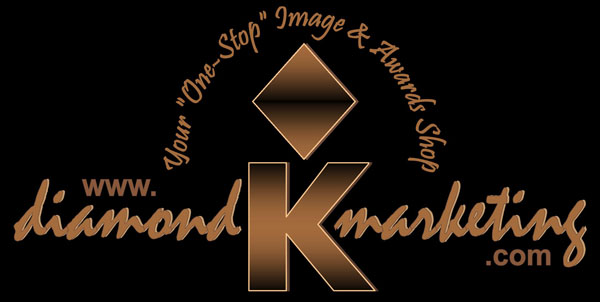 WELCOME TO DIAMOND K MARKETING

Diamond K Marketing is pleased to be celebrating its eighth year in operation,
providing clients across western Canada a "One Stop Image & Awards Shop" for businesses, organizations, teams and individuals.
Located north of Mayerthorpe, Alberta, Diamond K Marketing provides clients with a unique
and custom alternative for their marketing and award needs.
At Diamond K, we enjoy working with all our clients, and know that each of your organizations have unique
and individual marketing needs. We strive hard to offer you creative strategies and quality work in a timely manner.
We welcome you to browse through our website, to help you choose from a variety of services and items
that best suit your own organizational needs.
If you would like further assistance, please give us a call at our shop or send us an email.
We would be pleased to assist you.
Daryn & Carolynn Knapp

_______________________________________________________________________________
Below is a quick overview of all the exciting services and products
Diamond K Marketing can offer you as a Business, Organization, Team or Individual!
Diamond K Marketing has an unique advantage over it's competitors ... in-house creativity!
We Specialize in Logo Design, Vector Art & Digitizing Services.
1. We can help you create an original logo that is unique to your organization and to give you the look of success.

2. We can help you re-build a pre-existing logo or logo idea whether it is from an scan, sketched art, or a scrap piece of paper.

3. We can format or re-format your logo so that it is useable in print material, on a website, embroidery (digitized) or imprinted promotional items (vector art) so it is consistent for all your marketing needs.
Diamond K's Print Shop provides in-house printing for most jobs.
What does that mean for you? Faster service!
Diamond K also realizes that minimum orders don't always fit within a "Small Business" budget, so in-house print jobs don't require a minimum order. We specialize in business cards, letterhead, brochures, newsletters, personalized items and much more ... just ask!
Look professional when conducting your business using multiple-part business forms. Diamond K can custom design your business forms (invoices, purchase orders, receipt books, note pads, manual & laser cheques, computer forms, and envelopes) with the specific information you need including numbering, perforations, and more. Our business forms have an approximate 10 day turn-around and can be shipped directly to you from our supplier warehouse.
Business signs, banners, truck decals, weather proof labels and more are also available from Diamond K. Just let us know what you need and we'll look after the rest.
Many businesses in today's competitive marketplace require a website in order to provide up-to-date product and service information to their customers and to generate corporate traffic. We understand that having your own website provides you with the opportunity to promote virtually every aspect of your organization while enjoying the flexibility to change the site whenever necessary. Whether you need to post photos of your products or provide up-to-date information to your clients, you require a site that reflects your corporate image.
Diamond K creates and maintains websites that make it easy for you and your clients to navigate, while incorporating a eye-catching and creative look that not only works well on-line, but maintains a unified look with all your print and promotional items. If your looking for a corporate website with a clean and creative look to increase your presence in the market place, Diamond K would be pleased to assist you.
PROMOTIONAL PRODUCTS & IN-HOUSE EMBROIDERY:
Diamond K Marketing can provide you with extremely flexible and effective ways of profiling your business, organization or event through promotional advertising. We have an extensive line of distributors that provide us with a wide variety of promotional products, apparel, sporting and work wear.
Our Embroidered Promotional Products are all completed in-house and include, but are no limited to: Coats, Vests, Shirts, Headwear, Gear Bags, Lawn Chairs, Horse Blankets as well as many of our custom Leather products. The possibilities are endless! Silkscreening, Chenille Cresting, Embossing & De-Bossing are services we also provide!
Check out our complete list of promotional suppliers and their respective on-line catalogues to assist you in choosing your custom marketing products as well as the many sales specials throughout the year on a variety of products.
With an extensive background in rodeo and ranching, we have a good idea of what customers are looking for in terms of durability, style and affordability when tacking-up. Our custom made leather products include: Headstalls, Tie-Downs, Breastcollars, Halters, Spur Straps, Chinks, Gear Bags, Rope Bags. Saddle Bags, Gun Scabbards, Photo Albums, Daytimers and more. Choose from dark or light leather, hair-on hide and a wide variety of silver hardware for the finishing touch. Diamond K Marketing can also provide you the unique ability to embroider your logo or event name on many of our leather and hair-on leather awards.
CUSTOM AWARDS & AWARD LINE PRODUCTS:
Diamond K's Award Line Products provide you with flexibility & choice when profiling your organization, team, event or event winners for all types of events. Choose from Custom Leather Awards, Promotional Products, Embroidered Apparel, or our large supply of standard Trophy Awards and Plaques. Most orders can be completed within the week, depending on supplier locations and time of year.
Feel free to browse through our website for additional and updated service and supplier information or
… give us a call at 780-786-4848
... an email: diamondkmarketing@telusplanet.net
... or stop by our shop & showroom
We would be glad to help you find what you are looking for!
Diamond K Marketings'
"Creative Strategies and Original Designs"
will help make your organization stand out above the competition!

DIAMOND K MARKETING
Box 3629 Mayerthorpe, Alberta, Canada T0E 1N0
Phone: 780.786.4848 Fax: 780.786.4889
Email: diamondk@telusplanet.net